We're in Antigo, WI. It's -40 with the wind chill. Do I need to point out that it doesn't matter whether I say that in Fahrenheit or Celcius? If you don't count the wind, it's only 15 below (F).
Why am I here? My airline miles from all the travel I did starting in 2000 were about to expire. Grace hasn't really seen snow. There was a super-saver fare, and Diane's father's 85th birthday is coming up.
Need I point out how painful 40 below is? We packed 5 bags for 3 of us for 4 days, and it's not enough.
Grace was outstanding traveling. I've gotten to spend lots of time with her, and she's behaving extraordinarily well! The worst part of it all was when the plane was landing, and her ears hurt. She didn't believe that chewing gum would help, and wouldn't try yawning for me.
While driving from Chicago to Clintonville, WI, we stopped for provisions. Grace got out of the car to stretch her legs, and walked over to the snow by the parking lot. I stopped her and zipped up her coat, then she walked into the snow and picked some up — without gloves. Presumably to try and make a snowball. That's her big thing about this trip — she wants to have a snowball fight with me!
She only did that once, go figure! It's so cold that the snow is really dry and powdery. I had her stomp her feet all the way back to the car, so that the snow she walked in wouldn't melt and get her socks and shoes wet.
Last night, on the way from dinner in Clintonville to Antigo, we saw the non-wind-chill temperature drop to 19 below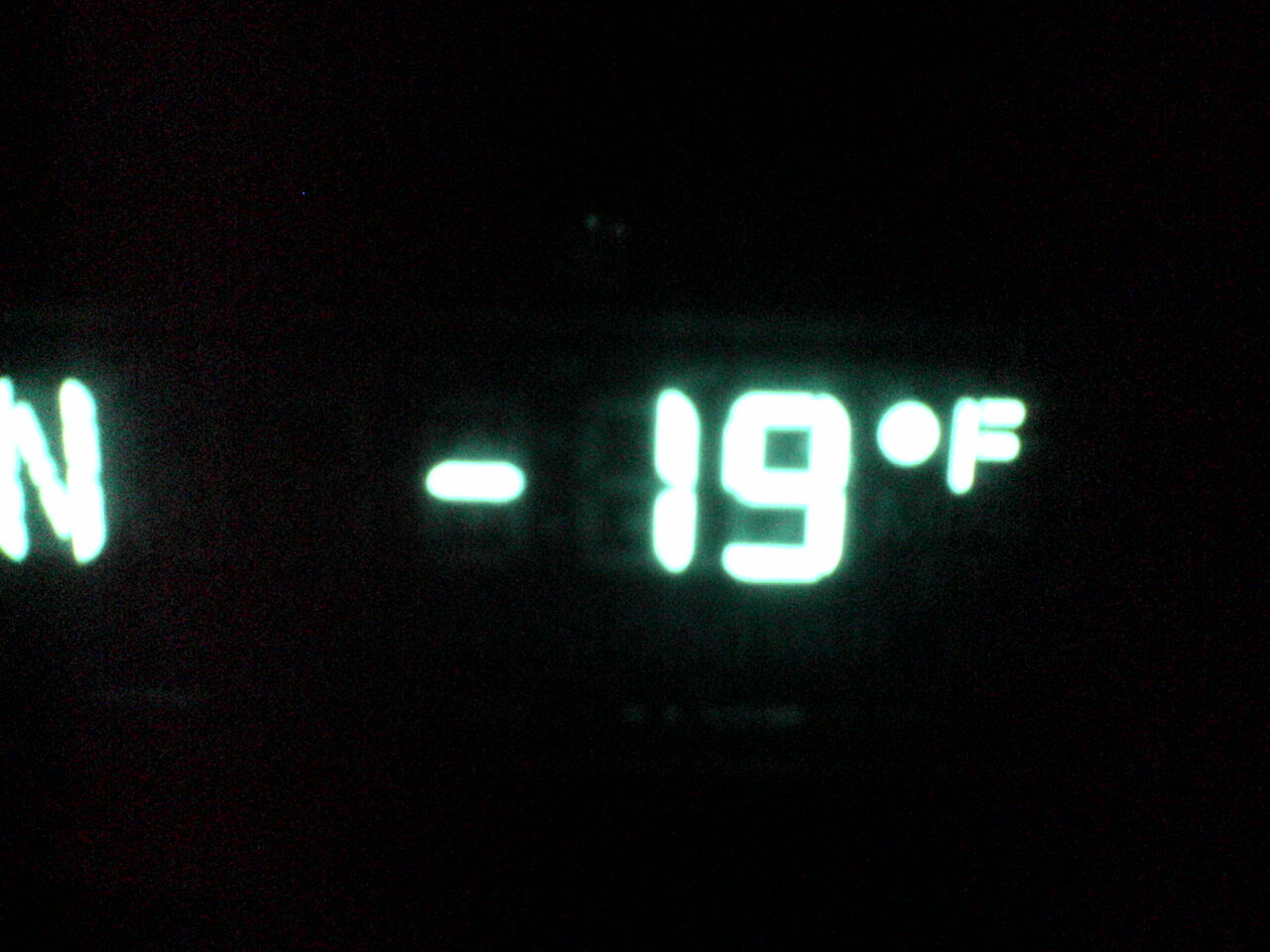 . I'm quite certain that that is the coldest I've ever experienced in my life, and I am more convinced than ever that I will never choose to do this kind of winter travel ever again, nor will I ever move further from the equator than I do now — about 4100 miles.